It was a tough first week "back to the grind" for Thing 2. The poor little guy contracted pink eye and was overflowing yellow-ish goop from his left eye earlier this week. Not a fan of the administering of eye drops, he fought ferociously each time his father or I inched close to him with the dreaded Polysporin bottle. He's got spunk, that one, and after experiencing some of the eye-drop-fights I'd say this young man may be headed for UFC one day . . .

Strangely, as his eye began to clear up, Thing 2 became increasingly miserable and was having round-the-clock bouts of crying and screaming. I eventually took him to the doctor one night, sensing that something was just not right. Luck was not on his side this week and he ended up being diagnosed with a nasty ear infection.

He was so tired and worn out that he literally passed out one evening while lounging with Daddy. So utterly unlike him, I had to capture the moment so it would stay with me. I'm hoping the rest of 2009 brings calmer waters for our little tough guy!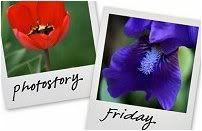 Hosted by Cecily and MamaGeek