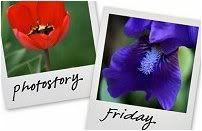 Hosted by Cecily and MamaGeek
Since tonight was my little girl's first birthday, and daddy deemed it of crucial importance
not
to miss a night of curling and thus would not be present for the first birthday of his only daughter, his very last child, the absolute light of his life . . .
Well. Ok. You get it.
(Some of you Americans not know what curling is? Let's see. I call it a game. He calls it a sport. I call it shuffleboard on ice. He calls it an
Olympic
sport. OK, well he's got a point there because it is indeed an Olympic event - and one that Canada dominates - but it will still be a cold, crisp, "perfect-for-curling" day in HE$# before I utter any words that liken it to a sport.)
This being said, I especially wanted to make sure my sweet little Thing 3 got something on her actual birth date. So I made a
home-made pizza
and picked up some cupcakes at our local Cake Shop in order that I might be able to snap that "
every mother needs to have it
" perfect shot of the baby with cake on her face.
We're having friends for dinner tomorrow evening and I'm making an
Angel Food cake
for her real birthday cake.
But tonight, while daddy beat the ice with a broom, the birthday girls Thing 3 and Granny had their cake. And ate it, too.
Check out more Photostory Friday at
MamaGeek's
and
Cecily's
places.