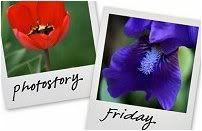 Hosted by Cecily and MamaGeek
Although it is not Thanksgiving here in Canada, I am
extremely
thankful today for a local camera store having a sale on DSLR cameras. After waiting patiently for over a year, I am finally the proud owner of a
Nikon D60
digital SLR camera. Because I was
good
this year, I was even allowed to open it before Christmas.
And while I do not profess to be anything that remotely resembles an expert photographer (or even a person who knows how to use her camera yet), I couldn't
NOT
share my first few shots with you.
Be patient.
I promise to get better!