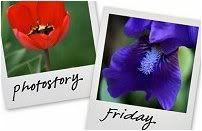 Hosted by Cecily and

MamaGeek
I splurged this week and had my hair cut and coloured. This is terribly exciting for a busy mom of three Things who has very little excitement in her life outside of
getting to the bus on time
. After having short hair for years, I decided to grow it longer. After the
birth of Thing 2
in October 2005, I committed myself to the hell that is
growing out your hair
.
A year later, things were looking pretty good . . . just in time for our holiday photos. My hair stylist convinced me to go with some blonde. Completely not me, but I had a lot of fun with it.


I kept growing it and growing it and growing it.


In April 2008, I had reached my goal. "Longish" hair that I could completely sweep back in a ponytail if I so desired.


After I had Thing 3, I had (for the third time) tremendous hair loss. It fell out in gargantuan clumps and managed to clog my shower each and every morning. I feared I would soon be bald, however, just when things became truly grim, the shedding stopped. I recently began to notice new hair growth . . . to the tune of 2 inch hairs sprouting out all over the top of my head. I began to resemble a porcupine as I pulled my strands back into my trusty elastic band. Pieces stuck up everywhere!!

So I put my trust in Joanne again and allowed her - two days ago - to use her discretion and do what she felt was best for my current situation. I was terrified to re-enter the domain of bangs after spending nearly THREE years to grow mine out, but I have to admit, the whole new look is growing on me.


(There you go, mom, I know you like me better with bangs anyway!)