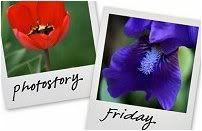 Hosted by Cecily and MamaGeek
I took this shot last night, to commemorate the very last time our personality-clad five-year-old cocker spaniel would be sleeping on our bed. Yes, you read that correctly. ON OUR BED. I made the grave error years ago when he was tiny, fluffy, and gazing at me with his gigantic saucer eyes to welcome him into our bed. I knew better, and I still did it.
Well, thirty pound Rudy is now a large, sprawling, snoring, vibrating mass occupying about 75 per cent of our queen-sized bed each and every night. The time has come - for a variety of reasons - that he be relegated to his comfy doggie pillow at the foot of our bed. Tonight is the night that we put our foot down.
Wish us luck.