I understand that our PR people have already leaked our latest little bombshell of news, but for official blog purposes . . . Thing 3 is a walker!!

This lovely lady is far more delicate and cautious than her big brothers when it comes to taking those first baby steps. While she is extremely steady standing unassisted, (and has been for months) she only started to walk all by her proud little self in the past week.

But it's really, really cute.


I had been pretty happy and filled with all that mom-oozing-joy-from-heart stuff until Paul so carefully pointed out to me that, "this is the last time we'll see one of our babies take their first steps".

Uh, right. Great, now I'm bawling and want a vasectomy reversal.

Kidding.


"Hey ma, check me out. I can wave this spoon around while walking. No other kid on the block can do this."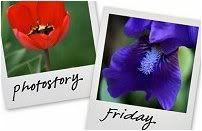 Hosted by Cecily and MamaGeek